There are so many factors to consider in planning the perfect wedding—wedding dress, venue, photographer, flowers, guest list, food, etc. — so many decisions that eloping begins to look like an attractive alternative.
How will you choose the perfect bridesmaids dresses? You'll want to enhance the colors and style of your wedding that you've chosen, and most importantly, dresses that will suit the figures of your bridesmaids.
Not to worry, you've come to the right place. Decode 1.8 has a full line of beautiful, flattering bridesmaid dresses designed to complement any style of wedding, in any venue, for every figure — yes, even plus-size bridesmaid dresses.
Before you begin your search, here are some tips for choosing the right bridesmaid dresses.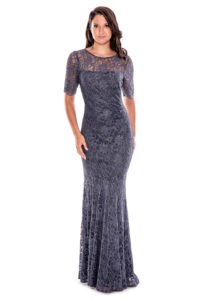 Dare to be different
Traditionally, the bridesmaids all wear the same dress. If you're a traditionalist, that's fine for you. But if you're the kind who likes to challenge convention, you can think outside the box a bit while still maintaining a unified look. Cohesion—a look that will set the bridal party apart from the rest of the attendees—can be accomplished with a single factor: color, style, or length.
For example, if your gown includes lace, you could dress your bridesmaids in gowns that all incorporate lace, like this stunning gown #182415, also available in a darker hue #182415w. For a summer wedding, the ladies could all wear similarly styled gowns in various shades of pastel (trending this year for Spring & Summer!). A beach venue could feature muted floral prints, or various shades of wine for a vineyard-set wedding. Or simply select a fabric or color palate, specify short or long, and let your attendants pick their own dresses.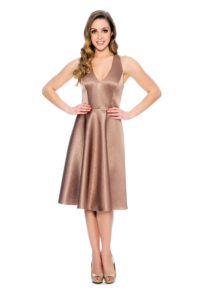 Consider cost
Since the bridesmaids pay for their own dresses, be sensitive to their financial considerations. Especially since they'll be paying for shower and wedding gifts, possibly other wedding events, plus transportation and lodging if they're from out of town. For destination weddings, be aware of how quickly their costs will be adding up as they work to make your wedding day special.
If you have your heart set on a specific bridesmaid dress and you think one or more of your attendants may not be able to afford it, pull them aside and offer to help pay for it. It's also considerate to find a dress that they'll be able to wear again for other occasions.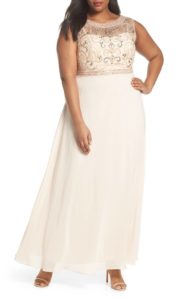 Consider the ladies
Not every figure will look good in a body-hugging mermaid dress. This is another good reason to allow your attendants to select their own dresses. You can maintain control of the selection yourself, but if you're trying to force plus-size women into dresses that could only flatter a size 2, you won't be happy with the result, and neither will she. Some of our favorite plus-size bridesmaid dresses are flowy dresses like #182944 and #184068.
If you opt to choose their dresses, try to keep in mind not only body shape, but skin tone and hair color, as well. Redheads, for example, should steer away from pastel pink. Those with pale complexions could wash out in pastels or grays.
It's your wedding, and you should ultimately have the last say. But if you keep these tips in mind, selecting bridesmaid dresses will be much more likely to make you and your attendants happy.
Be sure to shop Decode 1.8 for inspiring ideas to dress your wedding party.