Isn't finding the perfect prom dress difficult enough without having to wade through page after page of gowns that look like they were designed for a stick instead of a real person? Relax. Decode 1.8 has you covered, beautifully, in a wide array of prom dresses designed to flatter every figure.
You only have one prom in your life, so you want to attend feeling like a belle of the ball, and there's no reason you shouldn't! You are who you are, and you shouldn't be afraid to let your unique light shine.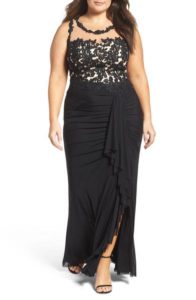 Get psyched.
Get your head on straight before you even start to shop. Lose any apologies (even to yourself) for the way you look and realize that a great dress will make you feel great on that special night. Remember, nobody (and no body) is perfect. Everyone has figure flaws, but the right clothes will minimize or even disguise them. You shouldn't try to look like anyone else. You should try to look like the best YOU possible. You should celebrate your curves and be ready to par-tayy!
Decide what style of dress you want.
What colors look best on you? Black is slimming – but look for shimmer or drama if you opt for that color. Monochromatic (all one color) dresses also work well for girls with curves.
What are your favorite features? What features would you like to downplay?
Do you have great legs? A knee-length or slit dress would draw attention to them. How about your back? A demure-looking front that disguises a dramatically bare back can be show-stopping. Super neck and shoulders? Try a strapless or off-the-shoulder gown to draw attention there.
Want to minimize a less-then-perfect tummy? Empire waistlines, side ruching, or draping will do it. Don't have great guns? Fortunately, sleeves are in this year. And lace or netting can help minimize a feature without covering it entirely, while also making it appear to recede.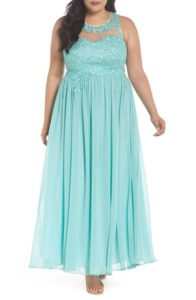 Know the visual tricks.
Vertical lines draw the eye up and down the body, the more closely spaced, the better. Avoid dresses that draw the eye horizontally, including two different colors for the bodice and skirt. In the same vein as vertical lines are V-necks. A V-neck draws the eye downward for an overall slimming effect.
Dresses that skim the body—especially the flawed areas—will slim the body. Figure-hugging dresses will emphasize areas you'd rather downplay. Remember "Cinderella" at the ball: her gown floated, it didn't cling.
If you have long hair, that is also visually slimming. Wear it down rather than up.
Jewelry should lengthen. Long or Y necklaces and long dangly earrings will draw the eye up and down.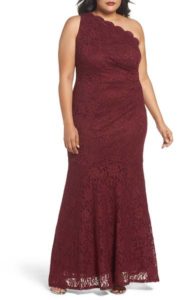 Get comfortable.
If your dress is so tight you can barely breathe or sit in it, you'll remember prom as an exercise in misery instead of an evening of magic. Be sure to get your measurements right, and don't be afraid to go a size larger. Just don't go so much larger that you're swimming in your dress, either. An ill-fitting gown will make it look like you borrowed someone else's.
Shop now.
Once you have in mind the look you're after, don't wait! Prom dresses sell out early and fast. If you want the largest selection, you can't afford to put it off. Shop Decode 1.8 for the widest selection of perfectly styled plus size prom dresses, designed to flatter and enhance.