Did you read that headline and go, "Wait, what?" Prom is months off, you have plenty of time to browse the Internet and the magazines and the stores to find the dress you've always dreamed of for that special night.. right?
It's not "too soon" like you may have been thinking! Thousands of girls already have their dresses for the 2018 prom season, and did you know that most stores will guarantee that they won't sell the same dress to another girl attending the same prom? So if you want to have the largest selection available to you, you need to get moving.. now.
How is it possible that others have already bought theirs? They've found them on the Internet after the new Spring styles were revealed (which for some manufacturers can be as early as October), and the most popular styles are snapped up early. You know the saying, "the early bird catches the worm!"
Thanks to Decode 1.8, there's still time to find your dream dress for prom. Browse our stunning collection of prom dresses today: long, short, bold, or blushing—we know you'll find one just made for you!
Here are just three of the dozens of our on-trend possibilities for your consideration: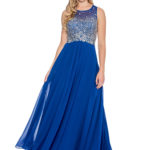 #183428
Dazzle is the word for this simply gorgeous gown. The beaded applique and illusion fabric froth across the round neck, inside the shoulders, over the bodice and down to the fitted waistline. The illusion back is the sweet surprise. Swingy layers comprise the chiffon floor-length skirt, a look made to conceal figure flaws or inspire intrigue. A simple pair of diamond studs are all the embellishment this dress needs to complete the standout look.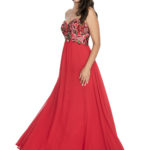 #184068
This charming creation flatters with the intricate embroidery surrounding the bodice. Its strapless sweetheart neckline and mid-open back draws attention to the upper body, while its empire waist flows down to the chiffon-overlay A-line skirt. This elegant beauty slims every figure type, while casting an enchanting picture with its full-length hemline that will swirl across the dance floor. Keep the jewelry simple: a cocktail ring and a simple silver choker.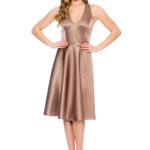 #184285
Dare to be different—and noticed. Go short and glowing in this simple yet classy pink satin dress. The sleeveless V-neck features sharply-cut shoulders front and back, and the diamond cutout at the back of the waist adds a unique flair of interest. The A-line skirt drops from the fitted waist to just below the knee, and will flare alluringly as you dance the night away. A glittery bangle bracelet and shimmery drop earrings will finish this look to perfection.
Prom is a night you'll remember all your life. Let Decode 1.8 help you make it perfection!