If you think black is boring, you didn't catch the Golden Globe awards! Every female attendee was decked out in stunning, glamorous black gowns (to make a bold statement about sexual harassment). Long, short, accented with gold, silver or pearls, fitted, gathered, glittery or smoky, the dresses flowed or clung or plunged, depending on the wearer's preference. Their talented designers didn't need color to show off these women to best advantage.
And neither do ours. We offer a wide range of elegant cocktail or full-length black dresses for any and every occasion.
Why black? It says "mystery." It says "elegance." It says "classic." And most fashionistas consider it a must-have for any closet because it can go anywhere and flatter every figure. The advent of the little black dress is usually traced to the great Coco Chanel, who considered its flattering versatility THE essential foundation to every woman's wardrobe.
Browse our full line of black dresses, guaranteed to make you a standout at any gathering. Here are just a few of our offerings.
What makes this LBD a must-have? Besides the figure-flattering fit, it's the attention to detail. The hand-beaded round-neck collar draws the eye to the front keyhole bodice and the pleated skirt hugs in just the right places. Whether dancing, dining, or partying, you can't go wrong with this one!
When you want to wow, slip into this slimming, crystal-beaded mermaid gown. The rhinestone beading provides its own jewelry. Just add a pair of shimmery drop earrings and you're good to go! Sleeveless, with a bateau neckline, sheer illusion panels front and back barely cover a sweetheart neckline and a scoop back. The hemline sweeps the floor, providing the drama you want.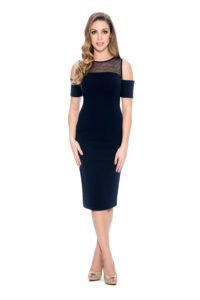 Day or night, this classic cold-shoulder cocktail dress will match your vibe no matter where you're going. The eye-catching mesh yoke beneath the portrait neckline says demure-yet-flirty, especially when paired with the on-trend cold-shoulder cutouts. Be sure to check out the back, which shyly bares more skin beneath the covered mesh panel. With its elegance and style, Miss Chanel might have designed this one herself.
The phrase "show-stopper" might have been created for this knock-out! They'll gasp when you make an appearance (there's no other word for it) in our trendy black-and-white color-block evening dress. Its V-shaped strapless neckline gathers at the sides then drops dramatically to a column silhouette with a thigh-high slit. The back is low and the interest will be high when you make your appearance in this memorable dress.
Whatever the occasion, Decode 1.8 has you covered. Be sure to check out our full line.