What could be more fun than a holiday party? A string of holiday parties. And you, dressed perfectly for each one. That's what Decode1.8 is for. We want to outfit you in the most flattering styles that will take you from so-so to stunning as you step out to cheer the season.
Here are just three of our dresses that are perfectly in tune with the festivities.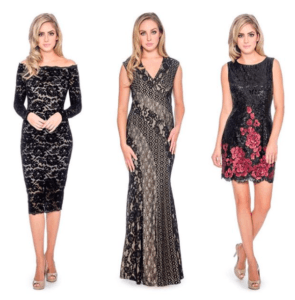 From office party to an evening out, Decode1.8 has you covered in feminine lace. Its barely off-shoulder neckline with scalloped edges sweeps out to the long, wrist-hugging sleeves. Figure-flattering black fully lined fabric skims your body in just the right places, ending in a demure below-knee hem. Slide the center-back zipper closed and marvel at the way it flatters from every angle. This is one LBD you won't want to miss.
Cocktail party? That's the time to shine, especially with your outfit. Check out our sexy sequined little black (and rose) dress. The crew neckline tops a fitted bodice and waistline, dropping to a slightly flared skirt that says fun and flirty and ready to party. The high scalloped hemline will give you plenty of room to kick up your heels. Eye-catching and flirty, this is a must-have addition to your party wardrobe!
When you're heading out for New Year's Eve, you know it's the last night of the year in which to make a great impression. And you can't miss with Decode 1.8's statuesque column of flowing black and nude lace. With its suggestion of cap sleeves and flattering V-neckline, you'll be memorable in this full-length gown with its center-back zipper closure. The gently flowing pattern of roses skims trouble spots as it guides eyes down to the ruffled flounce hem. It's '40s movie-star elegant updated with the freshness of today's latest designs.
Whatever the occasion, be sure to browse Decode 1.8's full line of holiday dresses, designed with you in mind.