Oh, the pressure! You're invited to a Spring or early Summer wedding and have no idea of what to wear.
Don't worry! Decode 1.8 is here to help you sort things out, and 8 is here to help you sort things out, and to provide you with a must-have spring wedding guest dress guide suitable for any figure, any affair.
Whether it's your cousin, your old college roommate, or your work associate who will be walking down the aisle, there are a few general guidelines—and one hard-and-fast rule—that all wedding guests should follow.
The Number 1 Rule: Never wear white. Ever. Not even off-white. Or ivory. Or anything that looks like a wedding gown. Unless the happy couple has stipulated an all-white wedding, this is the one unbreakable rule. The reason should be obvious: The bride will most likely be wearing white, and she should be the focus of the day, or evening, as the case may be.
This doesn't mean no white whatsoever, though. If you're attending a garden or beach wedding and wearing a print dress with a small bit of white in the background, that's generally considered acceptable these days. Black, too, is now considered appropriate for a formal evening wedding.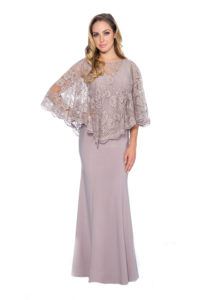 Here are a few guidelines to finding the perfect wedding guest dress:
Weddings are meant to celebrate and support the bride and groom as they start their new life together. This is not the place for anything bold, gaudy, or daring. And it's definitely not the occasion for anything revealing.
Respect is a good general watchword, both toward other guests and toward the venue. If the wedding is being held in a church, temple, or synagogue, respect for the religious locale is a good guideline to keep in mind. Jackets or dresses with shawls are a good idea in these cases.
Some outfits that will probably never be acceptable at any wedding include shorts, tank-tops, jeans, flip-flops, or sneakers. There are exceptions for these rules if the bride or groom says otherwise, or if you are walking in the sand to a beach wedding, then sandals or flip flops may be accepted.
Dressing for the wedding is not a problem if the dress code is spelled out in the invitation:
White tie
Long, formal gowns (think White House state dinners) with heels.
Black tie
Long, formal gown, or a dressy cocktail dress with heels.
Formal or Black tie optional
Either a long gown or cocktail dress with heels.
Semi-formal or Dressy Casual
For daytime events, cocktail dress or dressy separates. Heels are generally not necessary.
For evening, wear a cocktail dress and heels to a semi-formal wedding.
Informal
For daytime: A dress or even pants (not jeans), without heels. If you're attending an informal evening wedding, your best bet is to stick with a dress. Heels or flats are equally acceptable.
Festive Attire
This is the toughest but keep the above-mentioned guidelines in mind. Nothing revealing, sloppy, or overly casual. Cocktail-party attire featuring bolder colors and playful accessories.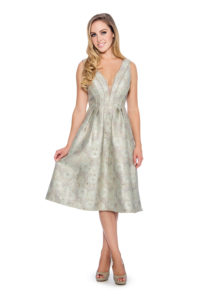 Casual
A sundress would probably be appropriate, along with sandals for a beach wedding.
If the invitation doesn't specify a dress code, you can either ask members of the wedding party or take your cue from the venue (country club vs. church vs. beach, for example). Dressing "up" rather than "down" is usually your safest bet for a wedding.
Since Spring is in the air, if you're feeling moved to celebrate the season, the hottest trends include lavender, satin, fringe, and asymmetrical skirts. And of course, you can't go wrong with florals.
Here's a good guide when trying to decide what to wear to a wedding: When you're trying on the dress, ask yourself if you'd be happy if someone wore it to your wedding.
And the best guide of all: Decode 1.8's beautiful new line of Spring wedding guest dresses!